Lingerie
From wipipedia.org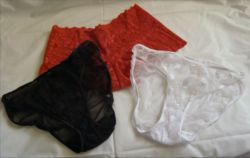 Lingerie means women's underwear or nightwear. It is often pronounced as 'lawn jewry', but some do it as 'linger-rhee', with both being understood as underwear. The name originates from the French word 'lin' for linen. Until well into the 20th century, women's underwear was worn for reasons of hygene, modesty, and to alter their shape (for example, corsets and bras). Only in the latter half of the century did lingerie develop into into the glamour item with the corresponding sexual associations that it has now.
Lingerie is usually accepted as a suitable dress code for fetish clubs
Types of lingerie
Adhesive bra, a strapless bra held in position by glue.
Babydoll, a short nightgown or negligée intended as nightwear for women.
Balconette bra, a kind of bra designed to be worn with a low neckline.
Basque, a tight, form-fitting bodice or coat.
Bedjacket, worn over a nightgown or negligee for warmth and modesty.
Bloomers, baggy underwear that extends to just below or above the knee. Bloomers were worn for several decades during the first part of the 20th century, but are not widely worn today.
Bodice, covers the body from the neck to the waist. Bodices are often low cut in the front and high in the back, and is often connected with laces or hooks. Bodices may also be reinforced with steel or bone to provide greater breast support.
Brassiere or Bra
Camisole, sleeveless and tight fitting, covering the top part of the body. Camisoles are usually made of light materials and feature thin "spaghetti straps".
Cami Shorts
Cheeky, description of any garment cut so that it exposes the bottom part of the buttocks.
Chemise, a one-piece undergarment that is the same in shape as a straight-hanging sleeveless dress. It is similar to the babydoll, but it is fitted more closely around the hips.
Corselet, or merry widow, is a combined brassiere and girdle. The corselet is considered to be a type of foundation garment, and the modern corselet is most commonly known as a shaping slip.
Corsage is similar to a corset. However, while corsets are commonly constructed of bone or steel, the corsage uses elastic. It is thus easie rto put on as no laces are needed, but it is not so effective at reshaping.
Corset with boning, a bodice worn to mould and shape the torso.
C-string, women's underwear without side-straps
French maid, a form of ladies' fantasywear
G-string/Thong, a narrow piece of cloth passes between the buttocks, and is attached to a band around the hips, worn as a bikini bottom or as underwear by both men and women.
Girdle is a type of foundation garment. Historically, the girdle extended from the waist to the upper thigh, though modern styles more closely resemble a tight pair of athletic shorts.
Granny panties is a nickname for panties that are high waisted and completely cover the buttocks.
Hosiery is a general term for close-fitting, elastic garments that cover the legs and (usually) the feet.
Jersey nightshirt is a long, loose T-shirt made of cotton, polyester, nylon, or diaphanous chiffon. It is very similar to a babydoll or camisole.
Knickers is an alternative word for panties.
Low-back bra, a bra specially designed to be worn with a backless dress.
Negligee is a dressing gown. It is usually floor length, though it can be knee length as well.
Nightgown or Nightie, a loosely hanging item of nightwear, may vary from hip-length (babydoll) to floor-length (peignoir).
Nightshirt is a shirt meant to be worn while sleeping. It is usually longer and looser than the average T-shirt, and it is typically made of softer material.
Panties or knickers, underwear that come in all shapes, fabrics and colours, varying from giving you lots of coverage to barely any coverage at all.
Pettipants are a type of bloomer featuring ruffles, resembling petticoats. Pettipants are most commonly worn by square dancers and people participating in historical reenactment.
Robe is a garment with sleeves or arm holes worn to cover the body. A robe may be floor-length, knee-length, or shorter, and it is commonly worn over and as lingerie.
Shapewear Lingerie designed to re-shape someone's body.
Stringbody is a tight, full body garment whose lower tail consists of a narrow piece that goes between the buttocks. The garment has been developed from the much older bodysuits.
Suspender belt (British), aka Garter belt (US); see also Suspenders
Suspender briefs, briefs with attached suspenders
Suspender tights Tights that mimic stockings
Torsolette (corselette for the torso), a shorter version of the corselette. It is very similar to a basque and a merry widow. The Torsolette may also feature detachable garters.
Unitard One piece, skin tight garment.
See also
External Links