Thong (lingerie)
From wipipedia.org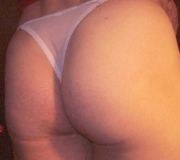 The thong is a garment worn as either underwear or as a swimsuit by both women and men which is designed to cover the genitals but with the remainder of the garment reduced to a minimum thus exposing the buttocks.
Types of thongs include the traditional thong, the g-string, v-string, t-string and c-string. The most significant difference between thongs designed for men and women is the shape of the front part of the garment. Often, but not always, thongs for men will feature a vertical seam to create shape and space for the male genitalia, the equivalent section in women's thongs is normally flat and seamless.
Within a fetish context thongs can be made in variety of materials including latex, PVC, and leather.
See also