Babydoll
From wipipedia.org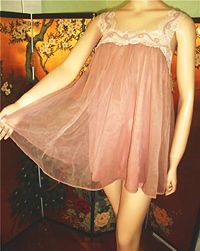 A babydoll is a short, sometimes sleeveless, loose fitting nightgown or negligée intended as nightwear for women. It sometimes has cups called a bralette for cleavage with an attached loose fitting skirt falling in length usually between the upper thigh and the belly button. The garment is often trimmed with lace, ruffles, appliqués, marabou fur, bows and ribbons, optionally with spaghetti straps. Sometimes it is made of sheer or translucent fabric like nylon, chiffon or silk.
The name was popularized by the 1956 movie Baby Doll starring Carroll Baker in the title role as a 19-year old nymphet, which essentially marked the beginning of the enduring popularity of the style for adults.
Short daywear dresses of a similar style are sometimes called babydoll dresses; the name is sometimes spelt as two words, baby doll, and sometimes hyphenated, baby-doll. Some styles are similar to the clothing of dolls in the form of infants, and of some infants; the gown is short enough that nappies are easily changed. However, there may be an alternative origin for the style, based on lace-trimmed shortie bedjackets and bed-capes of the 1930s and 1940s.
It is now a highly eroticised item of adult apparel, often classified as a form of lingerie. Adult babydolls are quite different from the infant babydolls; they fully expose the woman's legs, and some styles emphasise or deliberately expose the breasts as well. The gown is often sold as a set with matching panties, as a typical babydoll is short enough that underwear is visible if worn. Styles of the same general length but not intended to emphasise sex appeal are sometimes called shortie nightgowns.
Babydolls are now available in a sufficiently wide variety of styles that many lingerie retailers consider babydolls a distinct department. Modern babydolls often vary considerably from the styles of the 1960s and 1970s. Babydoll negligees from the 1950s to the early 1980s are now collectible vintage items.
Some babydolls open in front and resemble a robe or peignoir.
References
Bibliography
Barbier, Muriel & Boucher, Shazia (2003). The Story of Lingerie. Parkstone. ISBN 1-85995-804-4
Cox, Caroline (2000). Lingerie: a Lexicon of Style. Scriptum Editions. ISBN 1-902686-08-X
| | |
| --- | --- |
| | This page uses content from Wikipedia; the original article can be viewed here. |