Suspender tights
From wipipedia.org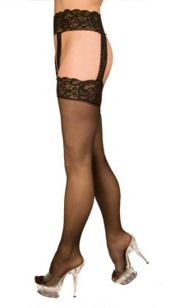 Suspender tights (US suspender hose or garter hose) or bodyfree tights are a pair of tights that mimic a suspender belt, suspenders and stockings all combined in one garment.
They are said to combine the ease of putting on of tights with the convenience and visual appeal of stockings.
Many tights sold as suspender tights are in fact ordinary tights which use areas of different colours or opacities to look like stockings and suspenders.
See also