Intimate examination
From wipipedia.org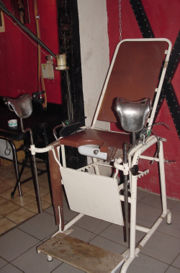 An intimate examination can form part of a scene in medical play where the dominant inflicts one or more embarrassing and humiliating quasi-medical procedures on the submissive. These may include an examination of the anus or vagina with a speculum, and handling and twisting of the penis and testicles.
The person performing the examination may be dressed as a doctor or nurse.
This may be a prelude to masturbation or administration of an enema. The sub may be placed in bondage beforehand and there may be a tie and tease.
See also