Medical gloves
From wipipedia.org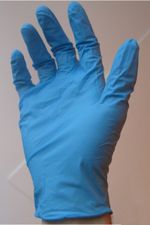 Medical gloves are medical safety accessories that ensure sanitary hospital conditions by limiting patients' exposure to infectious matter. They also serve to protect health professionals from disease through contact with bodily fluids.
Medical gloves are traditionally made of latex and powdered with corn starch to lubricate the gloves, making them easier to don. Corn starch replaced Lycopodium powder and/or talcum powder but since corn starch can also impede healing if it gets into tissues (as during surgery), non-powdered gloves are being increasingly used during surgery and other sensitive procedures. Special manufacturing processes are used to compensate for the lack of powder.
There are two main types of gloves: exam, and surgical. Surgical gloves have more precise sizing (numbered sizing, generally from size 5.5 to size 9), and are made to higher specifications.
Due to the increasing rate of latex allergy among health professionals as well as in the general population, there has been an increasing move to gloves made of non-latex materials such as PVC or nitrile rubber. However, these gloves have not yet replaced latex gloves in surgical procedures, as gloves made of alternative materials generally do not fully match the fine control or greater sensitivity to touch available with latex surgical gloves. High-grade non-latex gloves (such as nitrile gloves) also cost two or more times the price of their latex counterparts, a fact that has often prevented switching to these alternate materials in cost-sensitive environments, such as many hospitals.
Powder-free medical gloves are also used in medical cleanroom environments, where the need for cleanliness is often similar to that in a sensitive medical environment. Similar but specially tested gloves are used in electronics cleanrooms.
Gloves may be worn during intimate examinations or while administering an enema, for authenticity and hygiene.
See also
| | |
| --- | --- |
| | This page uses content from SM-201; the original article can be viewed here. |