Mankini
From wipipedia.org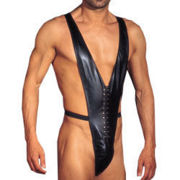 A mankini is a garment for men popularised by the comic character Borat (played by Sacha Baron-Cohen). It consists of a pouch covering the genitals, held on by strips of cloth over the shoulders. At the rear it resembles a thong.
The name is a pun on "man" and "bikini".
A similar garment for women is a suspender thong.
See also