Hood
From wipipedia.org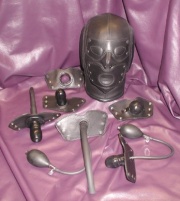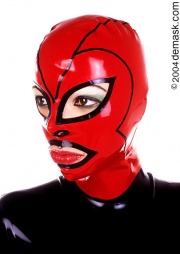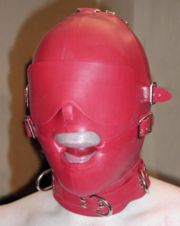 Hoods play a major part in BDSM imagery and practice. They can be worn both by submissives and dominants for a number of reasons.
Types of hood
Because of their popularity and the multitude of reasons for wanting to wear a hood there is a massive range of different designs available from a wide range of suppliers. This article attempts to classify hoods into a number of basic types, however, many hoods will combine elements of more than one type in their design.
Buying a hood
A trawl through the web will quickly bring up a bewildering array of suppliers selling every type of hood imaginable with prices from £30 to £300. Generally you will get what you pay for, the more expensive hoods being better quality and more sophisticated in their design. You will find that manufacturers will differ in how they go about constructing the hood, some concentrating on the quality of the stitching whilst others focus on the strength of construction. The most important thing though is the fit and this is best done by trying the hood on before buing it. If a hood is too tight it will quickly become uncomfortable and will end up not being used. If it is too loose much of the sensory delight in wearing a hood will be lost.
The most popualar materials for hoods are leather and latex. Leather due to its strength tends to be more popular for BDSM and Bondage use, latex due to it smoothness and range of colours is ever popular at fetish clubs.
See Also