Cameltoe
From wipipedia.org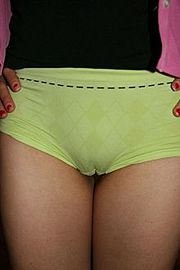 Cameltoe is a slang term that refers to the outline of a woman's vulva when seen through tight, form-fitting clothes. Pornographic web sites exist that are solely dedicated to publishing photographs of cameltoes. The male version of this is male bulge. In the US, it may be called a "moose knuckle." Larger women who wear tight fitting clothing are also said to have a mooseknuckle rather than a cameltoe.
Cameltoe vs. bulge
The word "cameltoe" in slang parlance refers to being able to see a girl's vagina through her clothes.
Uncleft "bulges" are more often visible. The degree to which a woman's mons pubis or "Mound of Venus" protrudes depends on a number of factors, including weight and anatomical variation.
Common circumstances
The causes of cameltoe are not always obvious, especially to younger people. [1] Cameltoe commonly occurs as a result of wearing clothing under the following conditions:
Vigorous or repetitive exercise, including running, especially in tight clothing
Wearing only one tight layer of clothing.
Wet clothing
Wearing trousers too high
However, some fashion analysts have also identified clothing design as a cause, rather than its size. Cameltoe may thus be exacerbated by:
References
See also
| | |
| --- | --- |
| | This page uses content from SM-201; the original article can be viewed here. |