Catsuit
From wipipedia.org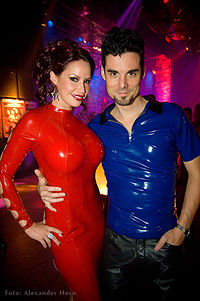 A catsuit is a skin-tight one-piece garment with sleeves and long legs, and sometimes with feet or gloves, sometimes with a hood and often with a polo neck. The name derives from its similarity to the costume worn by a pantomime cat.
Unlike a unitard, its use rarely involves sports, and it may be made of leather, rubber, PVC, or spandex. It is identical to a unitard in construction, but the term 'catsuit' tends to be preferred in erotic contexts.
A catsuit emphasises the shape of the wearer's body, especially the bottom, a woman's breasts and a man's male bulge. Some female catsuits have a long zip in the front, worn partly undone, so as to give the spectator the feeling that they could open the zip fully and access the wearer's breasts or crotch. (A suit with a long front zip is sometimes called a jumpsuit, although jumpsuits are rarely skin-tight.) Others may have zips at the crotch and over the breasts for ease of access.
Catsuits are often worn with thighboots. They are also often worn (especially by women) with a wide, tight belt to emphasise the figure.
Catsuits became well-known in American and British popular culture in the mid-1960s due to the Catwoman character (played first by Julie Newmar then by Eartha Kitt) in the "Batman" television show, and Lee Meriwether in the film based on that series. In Britain, there were also the Cathy Gale and Emma Peel characters from "The Avengers" television show.
A catsuit with a polo neck but without legs is sometimes called a kittensuit, although such a garment is indistinguishable from a polo neck leotard.
See also
External links