Leotard
From wipipedia.org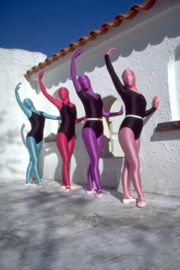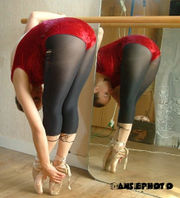 A leotard is a garment closely covering the upper part of the body down to the crotch. It does not cover the legs at all; a garment that does that is a unitard. A leotard may be sleeveless, or have short or long sleeves.
Initially designed for circus acrobats (and named after the acrobat Jules Léotard), it is mainly worn now by ballet dancers, but can also be worn as lingerie. A women's one-piece swimsuit is effectively a sleeveless leotard.
Most leotards cover the bottom, but some are high-cut or thong-cut so as to reveal all or nearly all of the bottom.
A tight leotard will apply pressure to the genitals and (for a female) to the breasts, which gives a pleasurable sensation. A thong-cut one can ride up and apply pressure to the anus.
Frequently, tights are worn under leotards.
See also