Gluteal fold
From wipipedia.org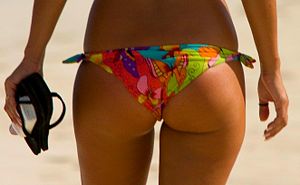 The gluteal fold or gluteal sulcus is the crease where the top of the thigh meets the buttocks, marking the very top of the leg.
Catching a glimpse of this fold under a miniskirt is considered an erotic experience by some, as they feel that they are viewing a "forbidden area". Often hotpants are brief enough to revel them.
A very noticeable fold may be a sign that the buttocks are saggy, due to obesity or poor muscle tone. The fold is much less noticeable, and may disappear, when the person is bending forward or crouching.
See also