Knee pad
From wipipedia.org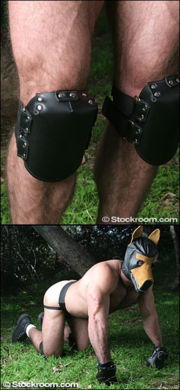 Knee pads are cushioned pads which are strapped to the knees to make kneeling more comfortable.
The act of a submissive kneeling before a dominant is an icon of BDSM imagery and forms an element of many people's play both privately and in clubs. While many people might fantasise about the sub spending a considerable amount of time on their knees, in reality, if one spends more than a short time kneeling on a hard surface it quickly gets very uncomfortable (in a very unsexy way).
Some bondage positions, such as vertical hogtie and kneeling hogtie, force people to put their weight on their knees.
Knee pads cushion the knees and allow a person to spend much longer on their knees than would otherwise be possible without them. They are readily available cheaply from DIY and builders' merchants; it is also possible to get more expensive leather ones designed for BDSM play.
In a home environment it is possible, of course, to engineer the scene so that the sub has a cushioned surface to kneel on. In a club environment this is more of a problem. Most clubs have hard floors and there is the small added risk that there may be broken glass or other sharp objects on the floor.
Pads are also useful in activities such as dog play, where someone has to do a lot of crawling.
See also
External links