Forced feminisation
From wipipedia.org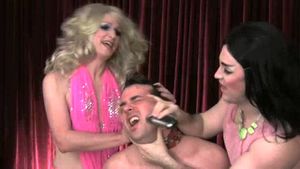 Forced feminisation or sissification is the process of forcing a man to be like a woman, generally as a means of humiliation or of asserting that the man is the bottom in a BDSM relationship.
This can take various forms:
Associated activities may include forced exhibitionism, foreced shaving of the face, armpits and other parts of the body, spanking (especially if dressed as a little girl), performing menial tasks such as going on hands and knees (possibly displaying his knickers) to clean the floor (especially if dressed as a maid) and tightlacing in a corset. The victim may be placed in bondage or have padlocks on his clothing to stop him from removing the clothes.
The victim may be given a female name, called "a good girl", or insulted by being described as a "whore", "bitch" or "slut".
Petticoat punishment
One variant is called petticoat punishment. It involves a male being dressed as a girl in front of his mother, sisters, or in some cases, girls of his own age whom he had offended by his boorish behaviour. It is a kind of forced cross-dressing for punishment.
See Also
External links