Victim
From wipipedia.org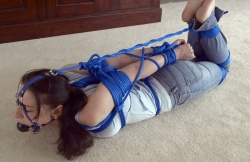 In a BDSM or bondage scene, the victim is the person who is captured, tied up or suffers the punishment. A victim is often, but not always, a sub, bottom or masochist.
The term does not imply that the person is unwilling; informed consent should have been given in advance.
If the emphasis is on the bondage or imprisonment, it may be better to use the term captive.
It is possible for both or all the players in a scene to become victims. For example, they may take turns to punish or tie up each other, or there may be a turnaround.
See also