Dominatrix
From wipipedia.org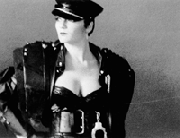 A dominatrix is a woman who takes the dominant role in sado-masochistic sexual practices. The male equivalent is a Dom or Master.
The term dominatrix is little used within the BDSM scene, and is usually used to refer to professional dominants ("pro-dommes"). A more common name for a non-professional dominant woman is Domme or perhaps Mistress, depending on the type of dominant they are. Dominatrix is one of the favourite words used by writers outside the Scene - for example, by tabloid newspapers to refer to pro-dommes involved in scandals with famous customers. There is no equivalent term to describe a professional male dominant.
A dominatrix who asserts she pursues BDSM outside of paying sessions or casual scenes is sometimes called a "lifestyle dominatrix".
While the word dominatrix does not necessarily imply domination of a male partner, the word is very rarely used in the lesbian BDSM Scene.
Notable famous dominatrices, who were professional dominants:
Fictional dominatrices:
See Also
External links