Bottom bondage
From wipipedia.org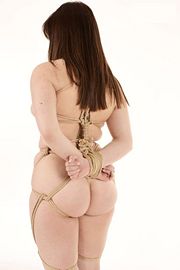 Bottom bondage or buttock bondage is the placement of ropes tightly round the base of each buttock. The idea is to make the captive's bottom bulge out, either for aesthetic reasons or to prepare the captive for spanking or caning. Such rope bondage is sometimes an integral part of an elaborate bondage rope harness.
It is difficult to get the ropes to stay in place. A fixing rope round the front, across the groin, and a crotch rope are usually needed, and the captive should be made to stand upright or lie flat and not be allowed to bend at the waist.
As with breast bondage, this technique does not immobilise the captive.
See also