Bondage suit
From wipipedia.org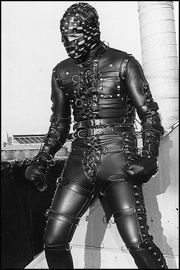 A bondage suit is an item of heavy duty bondage gear.
It consists of a jacket and trousers, usually made of leather. It has many laces on the arms, legs, sides of the torso, front entry and around the waist. These allow the top and bottom halves to be joined firmly, and the suit to be tightened to give a skin-tight fit over the entire body. It means that a leather suit can fit almost like a skin-tight rubber catsuit. Due to the lack of stretchiness of the leather, movement may be difficult when the suit is well tightened.
There is a fantasy to be in such a suit that is so tight that the wearer is held completely immobile.
Usually, the suit will have many D-rings on the limbs and torso to provide bondage anchor points to restrict movement further.
See also