Alpha sub
From wipipedia.org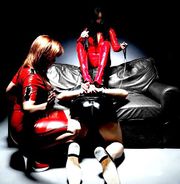 An alpha sub is a position that can exist in a relationship where a dominant has more than one submissive.
In this relationship, the alpha sub is the submissive who is afforded the most respect and therefore the most power over the other submissives.
The existence of such a position suggests a further level of hierarchy within a BDSM relationship that many feel is not appropriate, so it is something of a controversial subject.
See also
This page uses content from Kinkipedia (see here); the original article may be viewed here.