Wellington boot
From wipipedia.org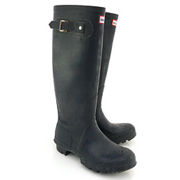 Wellington boots, also called wellies or wellingtons, are thick rubber boots, usually moulded in one piece with a flat sole and a shaft that extends to just below the wearer's knee.
They are named after Arthur Wellesley (1769 – 1852), 1st Duke of Wellington, who wore and popularised a similar style of boot, though the original ones were of leather. The effect of the Wellington boot was felt long before the existence of any rubber boot. The original style of leather boot was popular across the world long before rubber ones became available, despite their less than perfectly waterproof nature.
Wellington boots are nowadays mostly made in rubber and the black rubber variety are popular as sexual fetish gear among many people. Their popularity can be seen throughout the world as a sexual aid or enhancement.
Rubber boots are the best accessory to wear with any rubber outfit. However, Wellingtons may be worn as fetish accessories on their own. Wearing nothing but Wellingtons during a sexual act makes them the full focus of the fetish scene being unfolded.
Wellingtons are available in many variants, shapes and colours. On the gay male fetish scene, the firefighters' version are used to increase the overall masculine effect of the outfit and can be worn as a part of a uniform fetish.