User:MistressNikki
From wipipedia.org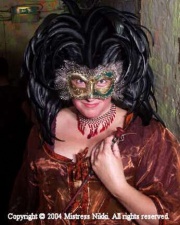 Mistress Nikki's lair Mistress Nikki is not a "Lifestyle" Dominant. She has too much lovely Vanilla life getting in the way!
However, she is a Hedonist of the highest order, and enjoys the buzz she gets from making people moan and squirm!
Active on the scene for coming up to 14 years, she was a Torture Garden House Mistress Jan 2001-2005, and also House Mistressed for various other London Clubs up until about 2010 (Pedestal, Hades, L'amour and various clubs held at "The Fringe" Venue.)
She is an active participant in "scene-supporting activities", hosting The Docklands Munch with Lionheart since 2005, upkeeping wipipedia, writing articles for the LFS (i.e: Novice to Naughty in 3 easy lessons - Archive.Org copy) and she hosted two workshops at Kinkfest 2004 ("Domination 101" and "Sewing from a Fetish perspective" as well as helping out stewarding at KF2, running the "Stage" Section for KF3 and both "Stage" and "Stalls" for KF4.
She needs more hours in the day...