Total enclosure fetishism
From wipipedia.org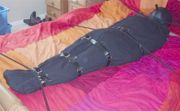 Fetishistic activities based on total enclosure of the body exist in several forms:
Total enclosure is often linked with sensory deprivation.
Although many people would regard these experiences as claustrophobic, some people put their fantasies into practice, sometimes combining them with bondage to intensify feelings of helplessness. As with all activities involving bondage or potential risk to breathing, this is a risky activity. Clearly, maintaining an airway, preventing postural asphyxia, and ensuring that the enclosed person has a means of escape at all times are of paramount importance, if these activities are not to result in death. (See the articles on bondage: Safety, erotic asphyxiation and autoerotic asphyxia for some discussion of the risks involved).
See also
| | |
| --- | --- |
| | This page uses content from Wikipedia; the original article can be viewed here. |