Suspension harness
From wipipedia.org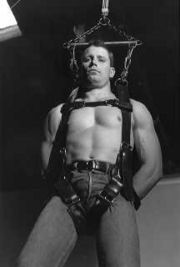 A supension harness is an arrangement of straps used to support a person during suspension bondage. Suspension harnesses are based on the safety equipment used by climbers and steeplejacks. When used properly, they will allow a person to be suspended safely for a period of time without affecting circulation or breathing. Suspension harnesses are usually used in conjunction with a suspension bar and a hoist.
It is important to ensure that the harness is comfortable at the start of the suspension, as the slightest discomfort may become unbearable after an hour or two.
Ordinary harnesses are most unlikely to be suitable for this purpose and should not be used.
See also