Stripping
From wipipedia.org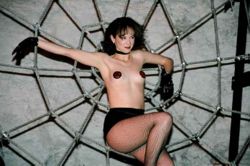 Stripping is when a person removes their clothes, usually in an erotic setting and sometimes as a prelude to sex.
When the term is used of someone stripping commercially, it usually refers to females, but there are male strippers.
Erotic use
When used erotically, the stripper usually strips slowly to create an erotic sensation in the room. This may also be done to keep their partner waiting, teasing them before showing more nudity. Thewre are various tricks used to extend the process. For example, if the stripper is wearing a suspender belt, it may have more clips than normal so that more time can be spent undoing them. Once a stripper removes a garment, (s)he may twirl it around in the air for a while, possibly ending by throwing it into the audience.
Clubs
Stripping, or striptease, is stripping at a gentlemen's club, or a strip club.
See also