Scaffolding
From wipipedia.org
Scaffolding is a temporary framework used to support people and material in the construction or repair of buildings and other large structures. It is usually a modular system of metal pipes (termed tubes in Britain), although it can be made out of other materials. Bamboo is still used frequently in Asia.
Scaffolding is also one of the most versatile bits of BDSM kit you can buy. A relatively small amount of scaffolding can be used to construct an almost endless variety of kinky bondage furniture. It has the additional advantage that at the end of the scene it can be dismantled and stored easily, and looks relatively innocent.
It is possible to use builders' scaffolding, but this tends to be heavy and the connectors have lots of sharp points and edges which can cause injury. A better choice is to use high quality aluminium scaffolding which is used by industry to construct more permanent installations. If you don't mind the extra weight, you can also use steel tubing. The most common dimension for tubing is 48.3 mm (about 2"). It is however possible to get smaller sizes which can be useful if storage space is at a premium (26.9mm is a good size); the disadvantage is that it will not be as strong and more care will need to be taken to ensure that any structures built are capable of supporting the loads placed on them. The cross section may be circular or square; circular tubes are often stronger and have no corners to dig in.
A budget of about £400 - £500 will buy enough stuff to construct a wide range of bondage and suspension frames. As a price guide, aluminium tube cost about £10 a metre and the ftttings average about £5 each (inc VAT).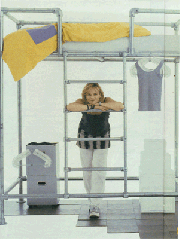 A suggested set would include;
Poles
4 x 2.2m aluminium poles
4 x 1.5m aluminium poles
4 x 1.0m aluminium poles
6 x 0.5m aluminium poles
Fittings
12 x 90 degree crossovers (Type 45)
4 x straight couplings (Type 14)
4 x Single Socket Tee (Type 10)
4 x Single Swivel Socket (Type C50)
4 x Male Single Socket Member (Type M50)
36 x Plastic plugs for tubing (Type 77)
The images below show a few of the possible configurations for the scaffolding.
The Insex website (now defunct) made extensive use of scaffolding in their scenes. A large archive of images which gives an idea of what is possible is availible and can frequently be found on the usenet (alt.binaries.pictures.erotica.bondage).
See also
External links