Robert Bishop
From wipipedia.org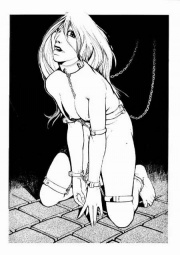 Robert K. Bishop (1945 - 1991) was an American bondage artist. Born in Michigan, he has been compared with John Willie and described as the "Rembrandt of bondage art". His work has been published extensively in bondage magazines, especially those of Centurians Publications and the bondage publisher House of Milan.
Bishop's work was almost exclusively in black-and-white and often employed airbrush techniques. He had an eye for detail and a very vivid imagination when it came to depicting bondage.
His complete work has been scanned and submitted to the Usenet's alt.binaries.pictures.erotica.bondage. He also produced work under the name Ashely using a different style, when doing illustrated covers and interiors for the "Fellowes" series of F. E. Campbell novels produced by House of Milan in the '70s and '80s. Worked in pencil, yielding rich textures and highly detailed historical European costumes and settings.
Although almost all of his work depicted women in bondage, he also produced some series of female dominant images, and a few male bondage images, some of which are now displayed at the Leather Archives and Museum in Chicago.
He was quite reclusive, and an avid gun collector; he committed suicide at the age of 46.
Partial list of magazine credits
1972: Beauties in Bondage #1 (HOM)
1972: Bitch 2/2 (HOM)
1972: Bound To Please 1/05 (HOM)
1972: Hogtie 1/01, 2/04 (HOM)
1972: Knotty 2/03, 2/05 (HOM)
1972: Latent Image 2/08, 3/01, 3/02 (HOM)
1973: Hogtie 2/05, 2/07
1973: Knotty 2/06, 2/07
1973: Latent Image 3/04, 3/05
1974: Beauties in Bondage #2
1974: Bound To Please 2/01, 2/02
1974: Hogtie 2/08, 2/10, 2/11
1974: Knotty 2/09, 2/11, 2/12
1974: Latent Image 3/06, 3/08, 3/10
1974: Stocks & Bonds 1/1 (HOM)
1974: Tied 1/1 (HOM)
1975: Hogtie 3/01
1975: Tied 1/3
1976: Bound To Please 2/08
1976: Hogtie 3/05
1976: Latent Image 4/03, 4/04
1977: Bondage Annual #6 (HOM)
1977: Hogtie 3/09
1977: Knotty 3/06, 3/07
1978: Bondage Annual #8, #9
1978: Bound To Please 2/11
1979: Bondage Journal 1/01 (HOM)
1980: Bondage Toy Catalog (HOM)
1980: Gags (HOM)
1981: Bondage Life #9 (Harmony)
1981: Bondage Revue 1/3 (HOM)
1982: Hogtie 3/12, 4/02
1983: Latent Image 6/01
1984: Bishop On Bondage 1/4 (HOM)
1985: Hogtie 4/08
1985: Kidnap: the Tyler Files 1/01, 1/03 (HOM)
1986: Bishop On Bondage 1/5
1986: Hogtie 4/09
1986: Kidnap: the Tyler Files 1/04
1987: The F. E. Campbell Illustrated Reader #1 (HOM)
1993: Bishop the Art of Bondage #2 (LDL)
1993: Bound To Please 5/05
See also
External link