Penis pants
From wipipedia.org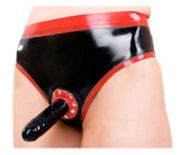 Penis pants are pants (US underpants) with a fake penis attached to the front. This penis may be hollow (so that a man can insert his real penis into it) or solid. Thus they may function in the same way as a strap-on.
A man may be forced to have sexual intercourse wearing these pants so that his partner gets satisfaction but he does not.
Such pants often also have a built-in butt plug.
See also