Pegging
From wipipedia.org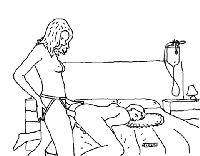 Pegging refers to a woman using a strap-on dildo to penetrate a man's anus, and may sometimes be used for female-female strap-on anal sex. The term gained wide currency through its use by sex advice columnist Dan Savage, who held a contest in his column to come up with an appropriate name for this act. Another candidate was "bobbing", referring to the Bend Over Boyfriend videos. [1]
A double-ended dildo may be used, allowing the woman to get stimulation too.
Some females who wish to perform anal sex but dislike the idea of a strap-on dildo use their fingers instead.
Since a recent article was published in the UK's London Metro free newspaper, several Internet groups have sprung up dedicated to pegging (search Yahoo groups). Also, a mainstrem dating site has created an offshoot site specifically for those that want to meet other "peggers" [2]
See Also
External links