Nun
From wipipedia.org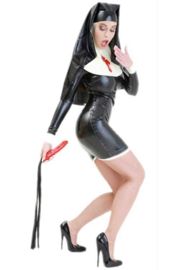 Nuns are members of a female monastic order. They traditionally wear a garment called a habit. Nuns take vows of sexual abstinence and chastity.
The fetish world has taken the image of a nun and perverted it; the fetish nun is now as much of an icon of sexual perversion as a real nun is of sexual purity. A number of Fetish Designers have taken the theme of the nun and produced their own take on the nun's habit in latex and PVC. Such outfits may include for example a very short skirt, stockings, fishnet tights or high heels. Fetish nuns are a common sight at clubs.
Much of the pleasure may derive from the thought of having sexual intercourse with a virgin, or the contrast between the real behaviour of the person and symbols of sexual abstinence.
See also