Master Warlock
From wipipedia.org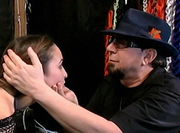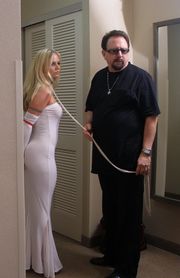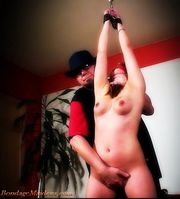 Master Warlock, was born Richard Schuetze on October 23rd, 1947. Master Warlock is the owner of BondageMaidens.com and is a BDSM producer, actor, performer, film director and lifestyle Dominant.
Personal life
Master Warlock Graduated from Taft High School in Woodland Hills then went to California State University Long Beach.
Master Warlocks's father was a cowboy. Master Warlock is divorced. He has one daughter.
Master Warlock is an Electrician and owner of an electrical company.
He is a huge fan of F.E. Campbell
He was a race car driver and makes hot rods in his spare time.
As of 2014, Master Warlock resides in Paramount, CA.
Adult Film Career
Master Warlock has created nearly 100 films under his 2 production companies Bondage Maidens and Savage Submissions.
His Shibari and photography has received much recognition and love on FetLife and other sites. Bringing his art to the front of Fetlifes Kinky and Popular page.
Nominations
Filmography
| Title | Year | Producion Company | DVD Cover |
| --- | --- | --- | --- |
| Alice in Savageland | 2009 | Bondage Maidens | |
| Beat Me Silly | 2008 | Bondage Maidens | |
| Best Of Bondage Vol. 1 | 2006 | Bondage Maidens | |
| Best Of Bondage Vol. 2 | 2009 | Bondage Maidens | |
| Bound Soul | 2008 | Bondage Maidens | |
| Bound To Submit | 2007 | Bondage Maidens | |
| Deep Impacts | 2008 | Bondage Maidens | |
| Dr Mal Practice Medical Deviant | 2008 | Savage Submissions | |
| Harsh Life Of Riley | 2008 | Bondage Maidens | |
| Liam's Greatest Hits | 2009 | Bondage Maidens | |
| Love Em And Liam | 2008 | Bondage Maidens | |
| Riley Tapes | 2008 | Bondage Maidens | |
| Savage Stories 2 | 2010 | Savage Submissions | |
| Savage Submissions | 2006 | Bondage Maidens | |
| Savage Submissions 2 | 2006 | Bondage Maidens | |
| Scenes of Submission | 2008 | Bondage Maidens | |
| Taught To Obey | 2007 | Bondage Maidens | |
| Tears Of Torment | 2008 | Bondage Maidens | |
| Tears Of Torment 2 | 2008 | Savage Submissions | |
| Tortured Soul | 2009 | Savage Submissions | |
| Two Days In His Dungeon | 2010 | Savage Submissions | |
External links
References