Gas mask hood
From wipipedia.org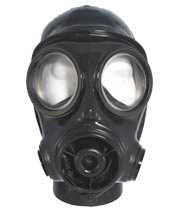 Gas mask hoods are made by replacing the straps attached to a gas mask with a more extensive head covering. Alternatively, specific elements of a gas mask (like the respirator) can be integrated into a rubber hood. Gas mask hoods are frequently used in breath play.
Manufacturer/Vendors
The following manufacturers also make their gas mask hoods available directly to the public:
Max Cita: Produces custom hoods based on specific models of gas masks. Some variability in sizing available.
Studio Gum: Produces a wide range of hoods integrating elements of gas masks in a variety of sizes and some variety of colors. They offer lacing vs. zippers as a closure option, and also offer the ability to have your mask made thicker for a nominal fee.

See also