Fingernails fetish
From wipipedia.org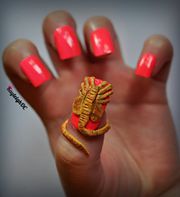 Fingernails fetish is where someone has a fetish for fingernails, normally long fingernails, either on themselves or others. Often, the fetishist will prefer the nails to be painted a bright colour. The commonest colour is red, but some may prefer unusual colours, patterns or different colours on different fingers.
Activities that may appeal to fingernail fetishists include scratching and abrasion play or hand worship.
Transvestites and cross-dressers may also have a slightly different fingernail fetish: they may wish to have their fingernails painted or to wear false nails, so as to look more feminine.
This page uses content from Kinkipedia (see here); the original article may be viewed here.