Facekini
From wipipedia.org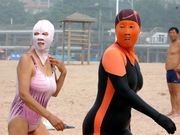 A facekini is a tight-fitting lycra hood, with holes for the eyes and mouth.
It is popular in Japan and China, especially among women, as beachwear as a way of avoiding getting a suntan on the face. (In these cultures, being tanned is undesirable as it suggests that you are a peasant who has to work outdoors.)
The name is apparently a shortened form of "face bikini".
See also
External links