Chastity belt - Personal Experiences
From wipipedia.org
Chastity Belts - Personal Experiences
This article is designed to allow people to share experience and give advice about Chastity Belts. If you feel that you have a valid contribution to make then please add it as a new section at the end of the article. If you have a comment to make about someone's advice then please use the discussion page for this. Readers, the advice given here is personal opinion and should be treated with caution. Please read the article on BDSM and the law for advice on the legal implications of this.
Many people who are into BDSM find the idea of chastity belts and erotic sexual denial an exciting concept as it allows the D/s dynamic to be extended into every day life.
Balzac's experience of male chastity devices
We have used a CB2000 for several years now mainly for short term use prior to a scene to increase the sexual tension in the run up to it. We also use it when going to clubs (if I am in sub mode) as we feel that if I am going to be exposed/stripped in public then it is more socially acceptable in a club environment to have the penis constrained by the device.
More recently we have purchased a Steel Pleasures chastity device. This is very different from the CB2000 and has much more of an industrial/SM feel to it. Being made of stainless steel is is much heavier that the CB2000 but in many respects much more comfortable to wear. We are now using it for an experiment in longer term wear, something we have not done before. Being both switches, our reasons for doing this are perhaps different than for many sub males. Wearing it does not make me feel particularly submissive although with the right triggers it can, of course, make me very subby. What it does do is to make me feel very connected sexually to my partner; I liken it to wearing a wedding ring, it is a token that my sexuality belongs to her. I do carry an emergency key, sealed, in my wallet, just in case I need to remove the device unexpectedly. Because we do not use the device as a tool for submission I can ask her to remove it at any time (so far she has never refused my request) and I would have no problem in domming her once it had been removed. It has definitely given a huge boost to our joint sexuality which is always but under stress when a baby arrives!
---
BenHur's experience of a real stainless steel male chastity belt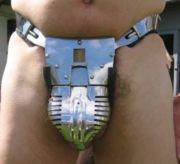 A few years ago my Master decided that to put an end to my riotous life and sexual infidelity, as His slave i would have to learn to wear a real stainless steel chastity belt in future. After looking at several Internet sites for a useful model, which could be worn for longer periods without problems, He decided to go absolutely sure and thus it happened that in the end He decided to choose the most heavy one he came across, the so-called Carrara, made by the Belgian beltmaker Walter Goethals, as this seemed to Him the best of belts, being the most restricting and secure model until now, making not only sexual intercourse, but even unauthorised orgasms and erections totally impossible. Indeed, the slightest stimulation of my genitals would be very difficult, as not only my penis, but also my testicles would be locked away safely, the testicles hidden in a barred cage, the penis even totally covered by a closed curved tube promising me that already the very first start of getting an erection would be rather painful.
Very practical seemed the fact that this belt could be worn under normal clothes without risk of discovery, as there were no big external locks or other bumps on unusual places. Further on, in contrast to most other models, the Carrara not only had a lot of hinges, what would make movements while being locked up much more easy; it also offered the possibility for several locking positions, to adjust the belt to the circumference of my belly if that would grow or diminish in future.
Made to measure, it could be worn semi-permanently and the beltmaker promised my Master in their e-mail-correspondence absolute security in three respects, if the belt would be applied as tight as possible and locked carefully: no risk of health or hygiene problems, no risk of escape without the keys, and - most important - no risk of unauthorised ejaculations. Once belted, i would for absolutely sure stay totally chaste as long as my Master wished.
My Master took up contact and thereupon we went to Goethals, to have my waist and genitals accurately measured, as it is, to avoid discomfort after long-term wearing, very important that the belt fits exactly around the slave's body. Two months later my belt was ready and we drove again to Belgium, where for the first time in my life i became belted. It was a very intense experience, and i was rather nervous during this moment, knowing what i was handing over.
I had to undress completely, but before putting me into my new belt, Goethals showed my Master minutely how the special high-security lock was functioning. I had never seen such a piece before! It was indeed a very ingenious mechanism, and the thick and heavy locking block - protecting the shackle of the built-in padlock from bolt-cutters - that would soon relentlessly suspend from my belly, looked very impressive, as the whole chastity belt did. The waist-belt, the front shield with the protector, the locking block were all made of solid steel. No way that i would be able to break the belt if i got too horny! It was quite clear: no chance to get out.
There was not much time to think things over, as the device soon went around my waist and my genitals disappeared in the huge protector out of sight. It took only a few seconds before the right position in the grooves of the locking block for the knobs at the belt-ends was found and thus the chastity belt was put in place, being applied as tight as possible for maximum security. At the very moment i was belted, the hidden padlock with a short 'click' was shut and the key taken out; i was totally aware of the fact that i had become a slave and would stay chaste from now on.
So we drove home, and back in Amsterdam i got plenty of time to get used to my new special kind of underwear, wearing it day and night. It did fit very well, and it was, as far as you could say, not too uncomfortable. Walking, standing, sitting, sleeping while belted wasn't a problem at all. Taking a shower, going to the toilet needed some exercise (and you can't use urinals any more!), but it was possible to clean the Siamese twins that my belt and body now were constituting in a rather reasonable way while being locked up. Only every ten to fourteen days the belt had to be taken off shortly for a separate cleaning.
Above all: in respect of its purpose, the beltmaker didn't promise too much! The Carrara protects the wearer against all sex - wanted and unwanted. My Master could let me go out everywhere with an easy conscience, as He could be sure i would stay chaste anyhow. Whatever i tried, i didn't succeed to get orgasms any more. As long as he cared that the belt was locked after opening each time as tight as possible, there was no possibility that by moving the protector downwards and upwards, and thus by 'fucking' the penis tube i could stimulate myself.
But of course, it took time to get used to the belt as such, apart from the sexual frustration that will always come after some time. I was only very slowly adapting myself to the fact that i was locked up by wearing it. It is not really a flexible short of linen, leather, rubber or some stuff like that! It is of steel, it is safe, it is solid, it is rigid, it is definite and it is heavy - yes, indeed it is heavy! And you know that.
Because, although the belt as such thanks to the hinges and the neoprene lining may be rather comfortable, be sure about one thing: especially in the beginning it's damned heavy too. The whole weighs some two kilos, two kilos of solid stainless steel! You always know that it's there! You feel it, the narrow waistband around your hips, the string cutting into your ass as a kind of butt plug, the protector covering your balls, the relentlessly curved penis-tube punishing your cock for every erection-try out. You know it's there, and you know it will be there also after one hour, after a day, after a week - as long as your Master won't let you out. You're permanently aware of the fact that you're belted, that you're just a slave.
That's exactly what my Master meant, by telling me that i had to learn to wear a real chastity belt: you have to extend the periods of wearing gradually, as otherwise you might get physically irritated by wearing it (of course you get sexually irritated too, but that of course is your problem!). Thus the first time i was only locked up for a few days, but after some months my body was able to stand it for a very extended time, and since then in fact i can wear the belt nearly permanent, as it is designed for that.
See Also