Bastinado
From wipipedia.org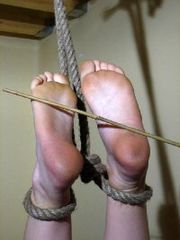 Bastinado is a form of physical punishment in which the soles of the feet are beaten with an object such as a cane, rod or club, a stout leather bullwhip or a flexible bat of heavy rubber. It is sometimes favoured as a form of torture because, although extremely painful, it leaves few physical marks.
The prisoner may be immobilised before application of the beating by tying, securing the feet in stocks, locking the legs into an elevated position or hanging upside-down.
Bastinado is effective due to the clustering of nerve endings in the feet and the structure of the foot, with its numerous small bones and tendons. The wounds inflicted are particularly painful and take a long time to heal, rendering it a particularly brutal and cruel punishment.
Etymology: The word is from the Spanish bastonada, ultimately from the Latin bastum, a stick.
See also
External links
This page uses content from Kinkipedia (see here); the original article may be viewed here.