Ankle
From wipipedia.org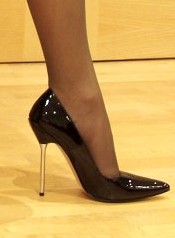 Joining the foot to the leg, the ankle can be a place to attach bondage items such as a bondage cuff or fetters and is also sometimes a place people like on their sexual partner's body (especially true of men with women's ankles). When legs are tied together, for example in a hogtie, there is usually a bond at the ankles.
Ankles can be emphasised by wearing a stiletto shoe.
An ankle may be covered by an item of hosiery.