Advice: TENS unit
From wipipedia.org
(Difference between revisions)
Line 9:
Line 9:
 
 
 

[[Image:Erotic electrostimulation.jpg|200px|right|Erostek ET312]]

 

[[Image:Erotic electrostimulation.jpg|200px|right|Erostek ET312]]

−

This is a very sophisticated unit costing over £300, it is large and heavy (compared with othe boxes I have seen) havings its own rechargable battery contained within the box. There are 18 stimulation modes plus another six modes that can be programmed by the user (with special software which is extra) and two independent channels. Although the controls look complex they are simple to use, I had no problem mastering them without referring to the manual. The different modes do work and can product noticably different effects on the subject. The box I have been using is on loan from a friend so I have not had to pay for it. The question is would I buy one myself? YES! it is expensive but it is also powerful and well made and is much more sophisticated than my own E-Stim Series One. If you are new to E-Stim then I would perhaps suggest that you buy a cheaper box as your first TENS unit, but if you know that you like it then you cannot go too far wrong with the ET312. [[User:Balzac|Balzac]] 08:36, 14 June 2006 (BST)

+

This is a very sophisticated unit costing over , it is large and heavy (compared with othe boxes I have seen) havings its own rechargable battery contained within the box. There are 18 stimulation modes plus another six modes that can be programmed by the user (with special software which is extra) and two independent channels. Although the controls look complex they are simple to use, I had no problem mastering them without referring to the manual. The different modes do work and can product noticably different effects on the subject. The box I have been using is on loan from a friend so I have not had to pay for it. The question is would I buy one myself? YES! it is expensive but it is also powerful and well made and is much more sophisticated than my own E-Stim Series One. If you are new to E-Stim then I would perhaps suggest that you buy a cheaper box as your first TENS unit, but if you know that you like it then you cannot go too far wrong with the ET312. [[User:Balzac|Balzac]] 08:36, 14 June 2006 (BST)

 
 
 

==See also==

 

==See also==
---
Revision as of 22:19, 11 October 2006
This article contains reviews and comment about commercially availible TENS units designed for the BDSM market. This is designed for users to share information about their experiences of products not for manufacturers to advertise their product. There is an external links section at the bottom of the article where links to manufacturers site can be added.
E-Stim Systems Series One
We bought a series one control box last year and are very satisfied with it. At £89 for an EBox Series 1 Kit + Veriprobe (butt plug electrode) this is very good value for money. It is quite well made, more than powerful enough for the sort of play we like. The only thing we would point out is that although it has two channels, they cannot be individually controlled (The manufacturer does point this out to be fair). If you are looking to experiement with electric play then this is a very good way to start. Recomended. Balzac 08:36, 14 June 2006 (BST)
Erostek ET312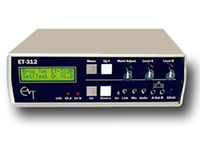 This is a very sophisticated unit costing over £300, it is large and heavy (compared with othe boxes I have seen) havings its own rechargable battery contained within the box. There are 18 stimulation modes plus another six modes that can be programmed by the user (with special software which is extra) and two independent channels. Although the controls look complex they are simple to use, I had no problem mastering them without referring to the manual. The different modes do work and can product noticably different effects on the subject. The box I have been using is on loan from a friend so I have not had to pay for it. The question is would I buy one myself? YES! it is expensive but it is also powerful and well made and is much more sophisticated than my own E-Stim Series One. If you are new to E-Stim then I would perhaps suggest that you buy a cheaper box as your first TENS unit, but if you know that you like it then you cannot go too far wrong with the ET312. Balzac 08:36, 14 June 2006 (BST)
See also
External links
E-Stim Systems:UK Based company making their own range of Electro-Stimulation Equipment and electrodes.