Westward Bound
From wipipedia.org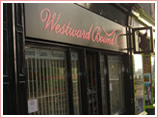 Westward Bound is a shop in Plymouth, England specialising in latex clothes, corsets and other fetish items.
Westward Bound
2 Tavistock Place
Plymouth
Devon
PL4 8AU
0800 783 1194 (UK only)
Fax +44 (0)1752 221417
+44(0)1752 221 415 (Outside UK)
History
Westward Bound was an offshoot of the fetish club Der Putsch, established in 1983. The name was originally used for the World's first Bed, Breakfast and Dungeon facility, started in Cornwall in 1987.
External links