Vibrator
From wipipedia.org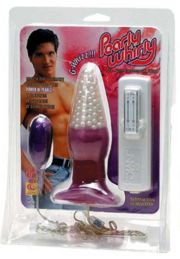 A vibrator is a woman's best friend, although it can also be used by men.
According to recent research, the electrically-powered vibrator was invented in the 1880s by doctors, who had been ostensibly treating women for "hysteria" for centuries by performing what we would now recognise as masturbating those women to orgasm. At the time, however, not only did doctors regard the "vulvular stimulation" required as having nothing to do with sex, they reportedly found it time-consuming and hard work. The vibrator got the job done more quickly and without such efforts, and as such was extremely popular with doctors. Home version began to appear soon after and became equally popular, only to disappear in the 1920s. It is believed that their appearance in pornography made it no longer tenable for polite society to avoid the sexual connotations of the devices.
In their more common guise as "body massagers", millions of vibrators have been sold to both men and women. Many of these men and women, it should be noted, never use their purchases for anything other than relief from muscular tension or aches and pains. However, the vast majority of vibrator owners use them to attain sexual release through their use, primarily in masturbation, a form of autoeroticism. Vibrators are also used by couples as an enhancement to the pleasure of one or both partners, and are often recommended by sex therapists to women who have difficulty reaching orgasm by other means.
Although many women who use a vibrator express concern over "vibrator addiction", the inability to achieve orgasm without the use of a vibrator, it must be stressed that this effect is entirely psychological; even long-term vibrator use does not lead to any decrease in sensitivity of the sexual nervous system.
The sale of vibrators and similar "novelty items" is forbidden in several states in the Bible Belt in the southern USA. In the state of Texas, the sale of devices for sexual stimulation such as vibrators and dildos is technically illegal, but many stores will sell such items provided that the customer sign a statement that the device will be used only for educational purposes.
Types of vibrators
traditional - Long, straight, and thin, with a plastic coating. Can be in many different colors
waterproof - Can be used underwater
g-spot - Similar to the traditional vibrator but with a curve and often a soft jelly like coating
egg (also known as the pocket rocket) - Egg shaped vibrator which can be used for stimulation of the clitoris or insertion into the vagina
plug-in - Unlike most vibrators which use internal batteries, this type has a power cord and must be plugged into a wall power socket to work
oral - small vibrator that goes in the mouth during oral sex
References
Rachel P. Maines: The Technology of Orgasm, Johns Hopkins University Press, 1999.
Joani Blank, Ann Whidden. Good Vibrations: The New Complete Guide to Vibrators Down There Press, 2000. ISBN 0940208261.
External links
Vibrator Opinions
What's your favourite vibrator? There are so many to choose from, but having bought around 10 I kept finding I was really disappointed by most of them. I kept falling back on using a dismantled lady shave (the mind boggles!) However, I'm now delighted by the Omax.
Dismantled Lady Shave
This sounds scarier than it is, I'm not advocating a clitoridectomy here folks. Many brands of Ladyshaves can have the blade and blade cover lifted off. Underneath there is usually a small (clit sized) nodule, that vibrates like a maniac. It's great for very intense, very specific vibration. Advantages are that ladyshaves are cheapish, easy to find, available rechargable, and some can be used in the bath. Disadvantages are: for many it would be TOO intense, the edges can be a bit too hard, and it looks bloody weird :)
The Omax
The Omaxis rechargeable through the mains, but doesnt need plugging in WHILE you are using it. No more endless batteries, no more inconvenient wires. It can be used insertably or externally - and with a bit of wriggling it can be BOTH insertable AND providing clit stimulation. It has adjustable settings. It has all rounded contours with no sharp edges. However, due to the way it is moulded in two halves and glued, it has a big joint-seam running down the middle of it. The manufacturers warn it is not waterproof either. Therefore, a previso of slipping it into a comdon before use for hygene and toy preservation is advisable. The seam is about 3mmwide, and 2mm deep, so it is quite difficult to clean if you do use it 'bareback'.

Insatiable G
only for when you need some serious hard core, instant gratification.
The Eroscillator
Mains powered, very high intensity, the Eroscillator comes with a number of attachments including one that is like a very very energetic finger, and another that can be used for G-spot stimulation. In my experience, gives a guaranteed orgasm!
The Whisper
Designed by Dr. Andrew Stanway, a leading UK Sexologist, this is one of the most powerful vibrators on the market. It is also practically silent. Whisper-Vibrator
See also