Story of O
From wipipedia.org
Histoire d'O (English title: Story of O ) is a sadomasochistic novel by French author Pauline Reage, revealed a few years before her death as being the pen name of Anne Desclos (1907-1998), who also wrote under the name of Dominique Aury.
Published 1954 in French, it is a fantasy of female submission about a Parisian fashion photographer who is blindfolded, chained, whipped, branded, made to wear a mask, and taught to be "constantly available" for oral, vaginal, and/or anal intercourse. In February 1955, it won the French literature prize Prix des Deux Magots, although this did not prevent the French authorities bringing obscenity charges against the publisher. The proceedings were eventually halted by the Minister of Justice, but a publicity ban was imposed for a number of years.
A very poor English translation appeared in France simultaneously with the first French edition. The first American edition was published in 1965, in a new translation by "Sabine d'Estrée", now known to be a pseudonym of the literary translator Richard Seaver. Eliot Fremont-Smith (of the New York Times) called its publishing "a significant event."
A sequel, Retour à Roissy (Return to Roissy, but often translated as Return to the Chateau), was published in 1967. The name Roissy refers to the scene of most events in Story of O.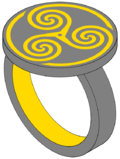 One view of the novel is that it is about the ultimate objectification of a woman. The heroine of the novel has the shortest possible name, consisting solely of the letter O. Although this is in fact a shortening of the name Odile, it could also stand for "object" or "orifice," an O being a symbolic representation of any "hole."
The book has been the source of various terms that are used in the BDSM subculture such as SAMOIS, the name of the estate belonging to the character Anne-Marie, who brands O.
A film, The Story of O, was made in 1975 by director Just Jaeckin, starring Corinne Clery. The film met with far less acclaim than the book. It was banned in the United Kingdom by the British Board of Film Censors until February 2000.
A Brazilian miniseries in ten episodes with Claudia Cepeda was made in 1992 by director Eric Rochat, who was the producer of the original 1975 movie.
Further Reading
Story of O by Pauline Réage ISBN 0552089303
Return to Roissy by Pauline Réage
See also
External links