File:Roissy triskelion iron ring signet.png
From wipipedia.org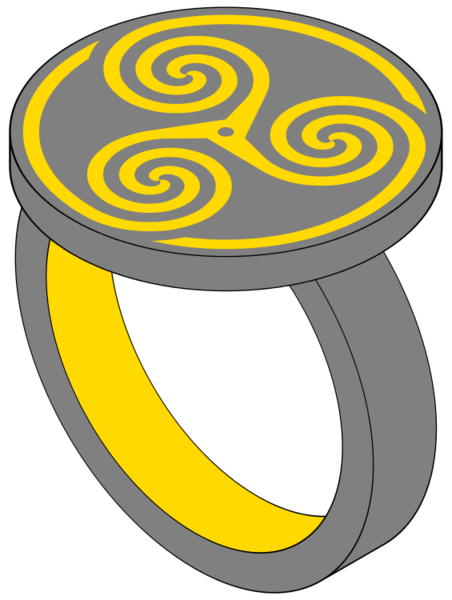 Original file
‎
(565 × 750 pixels, file size: 25 KB, MIME type: image/png)
One depiction or artistic rendering of the Roissy "triskelion" ring, as described in the "Histoire d'O" by Pauline Réage: It was made of "dull grey" polished iron, and lined inside with gold (presumably to avoid staining the skin of the finger). On top, the ring had an iron signet disk that was fairly large (relative to the size of a woman's ring), with a slightly-raised convex shape, which "for design bore a three-spoked wheel inlaid in gold, with each spoke spiraling back upon itself like the solar wheel of the Celts". This is a very basic depiction (using only simple cylinder and disk shapes, shown in a simple "isometric projection" pseudo-perspective) -- in an actual ring, the perpendicular angles should of course be rounded, and the top of the signet disk (here shown flat) should be slightly convex.
For a different symbol somewhat loosely inspired by the Roissy ring, see BDSM Emblem
Licensing
By AnonMoos, released under GFDL (now modified to GFDL/CC-BY-SA dual license by a global licensing update; see File:Roissy_triskelion_iron_ring_signet.svg on Wikimedia Commons ).
I, the author of this work, hereby publish it under the following licenses:
You may select the license of your choice.
File history
Click on a date/time to view the file as it appeared at that time.
File usage
The following 3 pages link to this file: