User:MineShaft
From wipipedia.org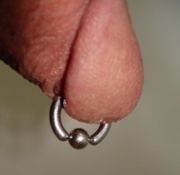 If you want to leave a mash note, do it on my
talk page
.
Yes, I have a cock piercing almost like this one (this is not a photo of myself). I used to have nipple rings, but these got in the way of the action (see Tit torture). I wear leather, and prefer the company of men who wear it also.
I am an American living in one corner of Iowa.
I call myself MineShaft because I am a graduate of that raunchy former New York leather sex club, The Mine Shaft.
I know what a spanner is. I support crescent-wrenching to hell.
True story
I dressed in full leather kit, by then. Inside seam zippered leather chaps over ancient 501 Levi jeans, sometimes a garrison belt on the jeans. I've always liked western snap-closed two-pocket shirts, and I'm certain I was wearing one, probably in denim (and if so a Wrangler Work Shirt, one I'd probably ironed mostly with sizing but also with a bit of starch). I had my very expensive jacket on, of course, with bilateral chains and cock-rings in the epulets. And the leather cap, with the maltese cross at the fore. And high-heeled Justin pointed-toe cowboy boots. Yeah, me, a high leather queen.
He called himself Chip. I had reduced him to utter pleasure at the Mine Shaft. We'd talked together as educated men. I chain-smoked; he did not smoke. I was in full leather, he was not. Per usual, I had given him my phone number.
He phoned me up, from Pittsburgh, Pennesylvania, and agreed to fly in to New York. Magically, I was there at the Port Authority Building where he magically appeared to me, along with Tommy, my understandingly-straight doper ex-con car service guy. I told straight Tommy I was handcuffing Chip.
Tommy drove for 27 minutes into Brooklyn mainly over the Gowanus Expressway. Chip was lightly chatty, as was I. It was the second scene. I had already determined that handcuffs were required before Chip entered my apartment. We were in Tommy's car, and no one was looking and so he consented, but Tommy saw and appreciated. But it was still daylight and we had to climb to my 4th floor apartment. Conseqeuently, the cuffs were off, but he carried them in his hand, along with his overnight bag.
Chip humbly entered my apartment, looking for action. I parked him in the bathroom, the first room in my apartment. He took my suggestion to use the occasion to thorougly pee and poop, with the understanding I might watch. True luxury is a bathroom without a door; my bathroom was not luxurious, but I had removed that door.
Rapidly, I moved him down the hall into the living room and then through the French doors of my bedroom. He willing allowed himself to be put into bondage as I did the chains, handcuffs and other stuff into the hooks at the French doors. He was nude.
I had put on some leather, a vest, my chaps, my boots, my cap. As the sun went down, and as I drank more (and spat booze into his mouth), we started the tit scene.
Tit Scene
I had already decided this would involve needles into his tits, something we had talked about at the Mine Shaft. I'd misappropriated boxes and boxes of injection needles from work and agree I shoulda been fired if I'da got caught.
I had him in reasonable bondage; if he worked at it, he could get out on his own accord. I used a black paisley handkerchief to blindfold him. He was willing.
We were both aroused. He bucked as if this was the first time he was in bondage, feeling the restraints, but I thought he'd been there before. I let him buck: it was so pretty.
I abused his cock and he responded mildly, waiting for the prologue to get over.
He knew I was doing Scotch, and knew I planned on becoming drunk. But he knew he could get out of the loose bondage I had him in. He wanted to go there, and I led him with is consent.
Basic finger/nail action attacked his tits, with some nice cock response. But since I had him blindfolded, and essentially unaware that needles were to be introduced, he just responded.
I fiddled, smoked and drank quite a bit before doing the first needle. I talked dirty to him, telling him how gorgeous his nipples were.
Then, home. I recognized how simultaneously and immediately he was shocked and pleasured. I fucked a needle in the other tit as well.
I was so moved by his response, I gathered him out of bondage and let him look at his pierced-tit nude self in the mirror, and boy, he did.
He wanted more, and there were more, but this is where the scene basically ended.
As I said, this is a true story.
Full bondage tit piercing scenes are rare but spectacular, but also tend to be when one is drunk or high. One wants one's nipples abused.
New truth, the first time
I first did it with Terry. I was 13. He seduced me. We were both in 8th Grade. Terry ended up a soldier who loved being in Vietnam (we had an odd reunion in the Sacramento, California bus station). Terry gave me some sort of skin condition, as he was doing it with soldiers in the Oakland Theater, in Oakland, California. But he wanted to suck or be sucked, as I recall, and was not prepared to do so. Me? I needed it to be done properly in the ass. He was experienced. I was the virgin.
I remember the first time I got my cock sucked off. It was in Alameda, Califonia, not too few years later, in a gas station rest rooom, back in the day when you did not have to ask for a key to the men's room (and it was also clean).
And a little later, after figuring out that I lived in the San Francicso Bay Area, and that San Francisco was exceedingly according to my desire for sex (but before I learned the word gay), I spend two dimes to travel to the TransBay Terminal in San Francisco, via AC Transit.
Current true history
Woke up with a sore left tit, and put up with for two days. After palpating to see what happened, I saw fibrous material exuding from my former tit-piercing holes. Such a shock after 15 years not having tit rings. Exactly: the stuff was coming from my tit-piercing holes. It's beige material; it does not smell of pus (nor did it then). The holes are under the nipple but through the areola (I have nice areolae). Been squeezing; the tit is sore, but what I give it is nothing unlike it's received. The mid-chest side has reduced; I'm still squeezing the left side. Self-medication includes triple antibiotic ointment, regular showers, as well as self-squeezings. Only the left side is sore now. I will update eventually.
(This is more leather than thou) --MineShaft 05:49, 27 October 2007 (BST)
My first trick
I was 16. I attended Saint Joseph's High School for Boys in Alameda, California, even tho' I was a Protestant. I had checked out a National Geographic Society publication on the design of the United States Capitol (glossily well paperbound). This was out of the Alameda Public Library, directly across the street from Alameda City Hall (it was a Carnegie library, showing its age and upgrades). Alemeda is an island in San Francisco Bay.
The guy, much older than me had been giving signs. I was the teen who'd been there, but not too much. I was blond, blue-eyed, wearing thick black glasses; he didn't wear glasses and was not fair. He suggested me into a gas-station rest room (a clean one as I remember), not to far away. He was the first to suck my cock to orgasm. I recall warning him "I'm going to come", and then I did. What strikes me, as I enter my 60th year, is that the word 'come' came naturally; I had not picked up the usage elsewhere: I was basically a virgin. Latin cum means with, but English cum refers to ejaculate fluid.