Top (clothing)
From wipipedia.org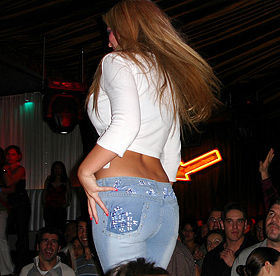 In the context of clothing, a top is a pullover or button-up garment worn over someone's torso. They are typically worn more by females than males.
Clothing tops may be quite short (crop tops), leaving the stomach exposed. They may have a variety of neck lines, ranging from polo necks to very low-cut lines that show cleavage. They may be designed to be very close-fitting across the wearer's breasts to emphasise them, or fully or partly see-through.
Tank tops are sleveless, collarless tops with no front opening. They are often short, like crop tops.
As with all fetish fashions, tops may be made from a variety of materials, including spandex and latex.
See also